Clamshell lettuce packaging boxes
Let's design and make the perfect custom clamshell packaging boxes for fresh lettuce and salad, tell us your needs, your project and let us help you make this a reality.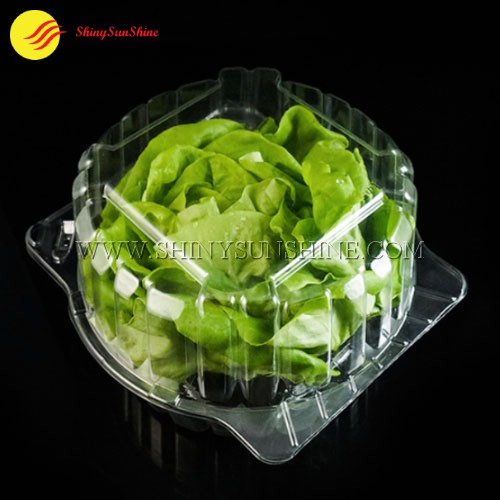 Shiny SunShine Custom plastic clam shell packaging boxes lettuce and salad with your label logo & design.
Custom lettuce clamshells offer several benefits for businesses in the food industry, particularly those involved in packaging and selling fresh produce like lettuce. Here are some of the key advantages:

1. **Branding Opportunities**: Custom clamshells allow businesses to prominently display their brand name, logo, and unique design. This branding helps in brand recognition and creates a strong visual identity for the product.

2. **Enhanced Shelf Appeal**: A well-designed custom clamshell can make your lettuce stand out on store shelves. Eye-catching graphics and attractive packaging can draw the attention of customers, increasing the likelihood of purchase.

3. **Product Protection**: Clamshell packaging provides a protective barrier that shields lettuce from external contaminants, physical damage, and moisture. This helps maintain the freshness and quality of the lettuce, reducing food waste.

4. **Portion Control**: Custom clamshells can be designed to hold specific portion sizes, making it easier for consumers to control serving sizes. This can be particularly important for businesses catering to health-conscious customers.

5. **Extended Shelf Life**: Clamshells can be designed with ventilation or moisture control features to extend the shelf life of lettuce by regulating humidity levels. This can reduce spoilage and enhance product quality.

6. **Easy Handling**: The hinged design of clamshell packaging makes it easy for consumers to handle and open the package. This convenience can improve the overall shopping experience.

7. **Food Safety**: Clamshells help protect lettuce from contamination during transit and storage, contributing to food safety. They also offer tamper-evident features that reassure customers of product integrity.

8. **Eco-Friendly Options**: Custom clamshells can be made from eco-friendly materials such as recyclable or biodegradable plastics, contributing to sustainability efforts and meeting consumer demand for environmentally responsible packaging.

9. **Customization Flexibility**: Businesses can tailor clamshell packaging to their specific needs, including size, shape, and design. This flexibility allows for creative packaging solutions that align with branding and marketing strategies.

10. **Convenient Storage**: Clamshells are stackable and take up less space in storage and transportation, reducing logistical challenges for businesses.

11. **Consumer Transparency**: Clear or transparent clamshell packaging allows customers to see the contents, inspect the quality of the lettuce, and make informed purchase decisions.

12. **Reduced Cross-Contamination**: Individual portions of lettuce in custom clamshells are less likely to come into contact with other produce, reducing the risk of cross-contamination.

13. **Easy Recycling**: Many clamshell packages are designed for easy recycling, promoting responsible disposal practices.

In summary, custom lettuce clamshells offer numerous benefits, including brand promotion, protection, convenience, and sustainability. These advantages make them a valuable packaging solution for businesses looking to enhance their product presentation and meet consumer expectations for freshness and quality.
A lettuce clamshell is a type of packaging commonly used to store and transport lettuce. It is a plastic container that has two halves connected by a hinge, and when closed, it forms a tight seal around the lettuce inside. The clamshell design allows for easy stacking and storage, while the clear plastic material allows consumers to see the lettuce inside before making a purchase.
Lettuce clamshells are often made from clear or translucent plastic materials, allowing consumers to see the contents without opening the packaging. They are designed to keep the lettuce leaves in place and prevent them from getting crushed or wilted. The clamshell lid provides a secure seal, keeping the lettuce fresh and reducing the risk of contamination.

Lettuce clamshells are often used by grocery stores, restaurants, and other food service providers to keep lettuce fresh and crisp during transport and storage. They can also be recycled, making them a more environmentally friendly option compared to other types of plastic packaging.

Let's make the perfect plastic lettuce and salad clamshell packaging container boxes for your business projects, all of this customized per your request.
If you already have your brand and logo made we can use them as is or we can maybe help you with designing new plastic fresh lettuce and salad clam shell package containers cup and all other product packaging you need.
As well for printing processes we use all CMYK and Pantone colors for the labels on your containers.
We can do many types of shape and models customize per your request.
We can use all the types of materials for high quality food container packaging such as PP, PS, PET, PVC, APET, PETG, PLA, Starch and more.
Product Information.
Item:
Food grade plastic packaging, Clamshell blister container boxes for fresh lettuce and salad from Shiny SunShine
Material:
PP, PS, PET, PVC, APET, PETG, PLA, starch etc...
Advantage:
Brand logo & printing:
CMYK or Pantone colours at your custom request. For more details please go to Brand logo & printing or Contact us.
Size:
Customizable to your need.
Shape:
Customizable to your need.
Quality control:
Raw material.

Production process.

100% QC before shipment.
Design:
OEM or ODM, Customize design which you can offer, if needed we can help you design the perfect bag for your business. Please go see FAQ or Contact us.
Sample Time:
To be determined according to your needs. Please go to FAQ or Contact us.
Production time:
To be determined according to your needs. Please go to FAQ or Contact us.


Different bag styles for your reference.
| | | |
| --- | --- | --- |
| Fruit vent bag | Single bag | Top handle bag |
| Side seal bag | Bag with adhesive strip | Wicketed bag for machine |
| Bottom seal bag | Back seal bag | Sheet in roll |
| 8 sealed bag | Side gusset bag | Zip lock bag |
| Top header bag | Soft loop | Swing arm |
| Stand up pouch | Shrink rap | Special shaped bag |
| Non-woven bag | Bottom gusset bag | Woven bag |
| PVC bag | Bottom seal with vent | Pillow bag |
| Bubble sheet | Mesh Bag | K-seal bag |
| Spout pouch | Fin/lap sealed bag | Rope closing bag |
Please click here to contact us directly with your enquiry.