Thermal printer Wax, resin, mixed ribbon
Let's design and make the perfect labels for your business, tell us your needs for thermal printer ribbons, what is your project and let us help you make this a reality.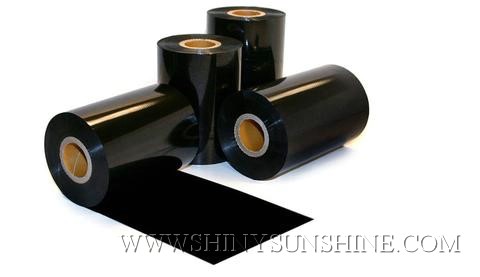 Anti-scratch waterproof wax resin mixed bar code ribbon
Thermal transfer printing is a printing process that uses a thermal printer and a ribbon to transfer ink onto paper or other materials. There are different types of ribbons that can be used in thermal transfer printing, including wax, resin, and mixed ribbon.

Wax ribbon is the most commonly used ribbon in thermal transfer printing. It is made of wax-based ink that is melted and transferred onto the printing material when heated. Wax ribbon is generally used for printing on paper labels, including shipping labels, warehouse labels, and product labels. It produces a good-quality print and is cost-effective.

Resin ribbon is made of resin-based ink that is more durable and resistant to harsh environments than wax ribbon. It is commonly used for printing on synthetic materials, including polyester, polypropylene, and vinyl. Resin ribbon produces high-quality prints that are long-lasting and scratch-resistant.

Mixed ribbon is a combination of wax and resin ribbon, offering a balance between the cost-effectiveness of wax and the durability of resin. Mixed ribbon is suitable for printing on a wide range of materials, including paper, synthetic materials, and glossy surfaces.

The choice of ribbon depends on the application and the printing material. It is important to select the appropriate ribbon to ensure high-quality and durable prints.
We can also provide you with different colors ribbons, black, blue, red, yellow and more for your thermal printer.
Remember having the good quality printer ribbons will make you labels look better.
Shiny Sunshine Custom high quality direct thermal labels.
Let's make the perfect printed labels for your business projects, all of this customized per your request.
We can use all the types of materials for custom high quality direct thermal labels such as Art paper, Coated paper, Vinyl, PET, PVC, PP, PE, BOPP and more.
If you already have your brand and logo made for your stickers, we can use them as is or we can maybe help you with designing new labels for your products.
As well for printing processes we use all CMYK and Pantone colors.
We also do lamination glossy or matte and hot stamping golden or silver just let us know what you wish and ask us to show you examples.
At the same time, we can do all your logo branding and custom packaging boxes and bags.
Product Information.
Item:
Custom

anti-scratch waterproof resin/mixed ribbons

from shiny sunshine.
Material:
Wax / resin / wax and resin mixed

.
Feature:
Good printing, clear, wear proof.
Size:
Customizable to your need.
Shape:
Customizable to your need.
Quality control:
Raw material.

Production process.

100% QC before shipment.
Design:
OEM or ODM, customize design which you can offer, if needed we can help you design the perfect bag for your business. Please go see FAQ or Contact us.
Sample Time:
To be determined according to your needs. Please go to FAQ or Contact us.
Production time:
To be determined according to your needs. Please go to FAQ or Contact us.
Please click here to contact us directly with your enquiry.